GKN Driveline's MIM Best Practice Event
Member News
Made in the midlands members GKN Driveline held a best practice event on 13th February, where members gathered to learn more about the company's capabilities and to network with like-minded companies.
Birmingham based company GKN Driveline is the market leader in the development and delivery of contemporary and electrified driveline systems and solutions. GKN has a global capability and is able to design, develop and integrate an extensive range of driveline technologies for over 90% of the world's car manufacturers. The company's technologies feature in everything from the smallest ultra-low-cost car to the most sophisticated and dynamic premium vehicle.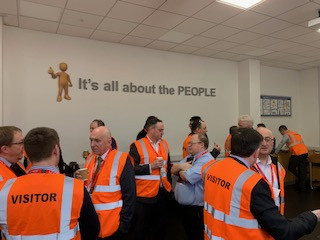 The event took place at the company's facility in Birmingham, where members began arriving at 8:30 am. Networking took place in the company's training, situated in the workshop allowing members to have a sneak peek at the company's capabilities and best practices.
After an introduction by MIM's Charles Addison, Simon Clare, Manager of Continuous Improvement held a presentation for the members. Simon spoke about the company's three divisions which are Aerospace, Driveline and Powder Metallurgy. He said:
"Here in Birmingham, we sit within the Driveline division. This is made up of the essential driveline components and electric and four-wheel-drive systems."
Simon also spoke about the company's vast amount of facilities across the globe which comprises 54 manufacturing workshops in 21 countries along with 5 technology centres.
After the presentation, networking and refreshments members were then invited on tour of the workshop.
Members saw the process and production of the drive shafts that the company famously manufactures. With the capability of manufacturing 11,000 drive shafts and 4,000 prop shafts a day, it comes as no surprise that the company is the world leader in driveline systems.
At the forefront of innovation, the company has designed a prop shaft that collapses if in a car accident instead of coming up through the car, a life-changing design.
Following this, members were escorted back to the training room for more networking. Wayne Bagnoll, CEO of Schmolz and Bickenbach attended the event and found it interesting to learn about the company's capabilities:
"One of the things I took away from the event is that GKN is introducing lean manufacturing and cutting cost where possible to stay leading in the market."
Talking about what he hopes members took away, Simon Clare said:
"We are trying to transform the business in light of the current climate, we are moving forward with automation and industrialization. We are also trying to mature the site in terms of the culture of continuous improvement."